"It felt like they were so witty, smart and intelligent, at the same time"…
Interview with Václav Wortner, improv performer and teacher, and long-term guest of Camino Art House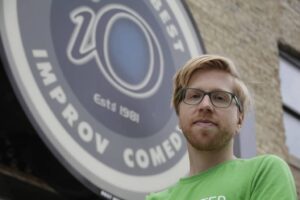 An interview with Václav Wortner, improv performer and teacher, and long-term guest of Camino Art House
Václav called me from Tasarte as he was looking for a place to work on his book. When I continued asking him questions concerning his background, I quickly discovered that he was an improvisation teacher, which made me think to myself, "what if we do an improv training/camp/workshop in the hostel"… From this phone call, an amazing program as well as a strong friendship evolved…and the book is progressing well too.
How do you feel about Camino?
Wow, I feel really good, the place is very suitable for what I am looking for. It is a place where I can focus on writing my book, and at the same time not being alone, having the possibility to meet others too. There is sufficient space for me, enough freedom. Also, the distance to Las Palmas is perfect, far, but not too far.
What was your journey to find theatrical improvisation?
It was a nice, long journey. I studied psychology, I was very interested in group dynamics, group therapy, and group leadership. I never thought of theatre back then. However, later at the university, I accidentally saw an improv show. I was actually just passing by, and I didn't even come to this event, just stopped to have a look. All in all, I was very impressed. I thought, this is a way where you can work on so many personal skills. The actors were able to react fast, to sing, move and dance, it felt like they were so witty, smart and intelligent, all at the same time. They were not only brilliant in the way how their brains were working but also their bodies. So, I had a strong feeling that I had to do this! As a result I started training. For some years I was learning improv in Brno, but I felt I needed more, so I started to attend international improv festivals and shows abroad in France and Germany. After these experiences, I understood that if I wanted to go even deeper, I had to study theatre.
I thought I cannot be a good improv actor if I am not an actor. I was already 29 at that moment, a bit old for starting an acting carrier or studying drama school, but I felt I had to do this in this life, I could not wait for my next life when I would be younger. I really had to do it right away. So, I discovered that I could enter a theatre school by doing a PHD at the Academy of Performing Arts in Prague. My dream came true: I studied acting for 6 years, finishing last September. Following my graduation, I went on performing in Prague and abroad. With my classmates we created a theatre company; we performed in Tallinn. I went to Chicago, the birthplace of modern improv that can be traced back to the 60s'.
Does language matter when improvising?
So far I have performed these shows in Czech, English and, Spanish. And I must say that not speaking the same language on stage does make a difference, because there's a higher chance of misunderstanding. However, this makes it interesting, because if we are good improvisers, these small mistakes and errors can be great gifts that we can include into the story. It can be a blessing in disguise if something like this happens. In France, I also lead a workshop where the participants didn't speak French as they were immigrants from Africa and from Spain. We improvised the whole weekend without words. We even had a show, and people loved it! We executed proper scenes, and it was always clear what was happening. With that said, I consider improv a universal language just like music. We don't need to speak the same language and we still understand music, right? I think improv has the same potential.
How can improv be useful in real life? If someone is not doing it for living, can it be still useful to try, or learn even for longer period?
Yes, of course! Beside the joy that it gives, it is amazing for team building, for example. I would not use the word "therapy", but it is a perfect tool for personal development. Many people start to practice improv when they feel weak or not that skilled in social situations. By improvisation they can learn to make mistakes, accept these failures and just go on. Ultimately, they learn not to get scared in any kind of situation. When you are able to perform on stage in an unknown situation, you will for sure handle such situations off stage, when everything is more relaxed and nobody is watching you.
Improv can be also useful for learning co-operation, and enhancing creativity. The spirit of co-operation on stage really works elsewhere too, not just when creating a story, for example, for innovation of new products and/or strategies. I also enjoy this application of improv, outside of the world of theatre.
How was your first workshop at Camino?
It was a nice combination of two topics: writing and improvisation. People were learning improvisation, but also learning how to write and edit a short story. Participants were mostly expats living in Las Palmas. And with these people, after the worskhop, we formed an improv group, so now we have regular weekly trainings in the city. In the next workshop I want to focus on how to build a scene, how to build up your character, and how not to get lost in the scene. We will make sure that the scene has a beginning and an ending too. It might sound simple, but when you are starting with improv you are happy when you come up with anything, and it is great because you have created something from scratch, but after a while, as your teacher, I want you to come up with a more complex story to create real scenes with an interesting twist, and maybe a conclusion at the end. This takes time and requires practice.
What is your plan for now? How long are you planning to stay in Gran Canaria?
At the moment, I am planning to stay until the end of April – or more, perhaps. If I finish my book, it would be beautiful, if not, it doesn't matter, I don't have a deadline. I like finishing things though, and focusing on projects until the end, so I will just go on working on it. I have sent the first 30 pages to my editor. The book is an autobiography, dealing with the last 8 years of my life, and now I am entering into a more challenging part of the story. As I am getting closer to the present moment, I am becoming more attached emotionally and it is more difficult to see it from a distance. I am now struggling a bit. The text is still raw and I have to sort it, cut it, and organize it, but this is what I chose to do here, so I am happy to work on it.
My life back in Prague still exists, I still have my theatre company, my students, so when we get permission to go on working, we can start right away. I am actually very lucky there is a lockdown now in my country, because I have the chance to stay away from my home for a longer period. Earlier I could not travel for long, maybe for a weekend or a week, but I always had to return home to perform in the theatre. I am really enjoying this moment, and it feels good to spend this time here, on the island.