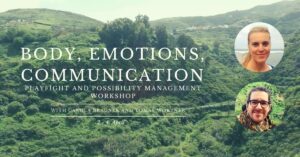 For sure you have experienced difficult times when making an important decision, being in a hard conversation, or maybe in a conflict situation. Handling emotions and express yourself correctly might be also challenging in happy moments, not only in difficult situations. Stand up for ourselves, be there for us, and see our chances in different positions is something that can be learnt, practiced and developed.
Welcome to Camino's first PlayFight and Possibility Management workshop, where two amazing instructors – Carola and Tomas – will guide you through different tasks and exercises while you can focus on your self-development regarding to your needs.
In the workshop, we create a sincere and safe atmosphere, where people open and transform their personal topics. The main tools for this are conscious work with the body, emotions and the art of honest communication. 
Lets come together and explore our inside world by interaction in PlayFight and Possibility management methods.
PlayFight is self development method based on natural physical game – playfight. It is a place where you can connect to your playfulness and vitality. PlayFight is a method to learn to express any arising emotion (verbally and non-verbally) in non-violent way. We playfight and then share how did we feel. The aim is o let ourselves to be authentic in the interactions with others.
In Possibility Management Training people learn more about their mind programming and take responsibility for their opinions, actions and feelings. Through exercises you train than new ways of communication and behavior in order to have more lovely relationships with yourself and others and furthermore to live closer to your own reality.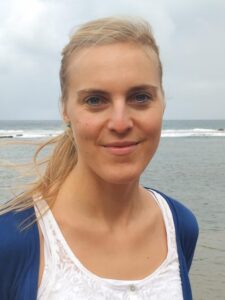 Carola Brauner, has been teaching for several years, and found Positive Management two years ago accidentally. She got fascinated right away, because she learnt that there are so much more important topics, than normal school subjects. She got motivated to be involved deeper in the positive management strategy. She started to learn it and now she is leading PM groups in Las Palmas de Gran Canaria on a regular bases.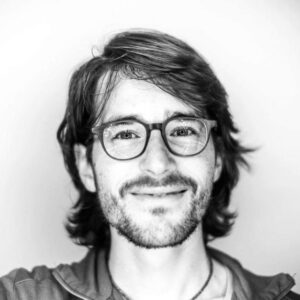 Tomás Wortner, performer, dancer, director and teacher, graduated from Janacek Academy of Music and Performing Arts in Brno. Tomas's topics are self development courses. His main interests are working with emotion, open communication and community building through group dynamic. He is founder PlayFight (original self-development method using sharing circles and physical activity – PlayFight for non violent communication practical goals) which is one of his most fulfilling activity in the last 3 years.
Everyone can join this workshop, whatever your skills or age is. You do not need prior experience. We will work outdoor in small groups.
Program:
Friday (apr 2)
17-19.30 workshop
dinner
camp fire
Saturday (apr 3)
8.30h breakfast
10-13.30h workshop
lunch
15.30-19h workshop
dinner
camp fire
Sunday (apr 4)
8.30 breakfast
10-13h workshop
Lunch
15-18h workshop
end of program
We are kindly asking your contribution for the workshop, accommodation and the food, which would be 75 euros/person.
For more info please contact to caminoarthostel@gmail.com or +34633339903