We already have a few confirmed teacher/performer to the festival. Please follow up this article for the more updated info about the programs.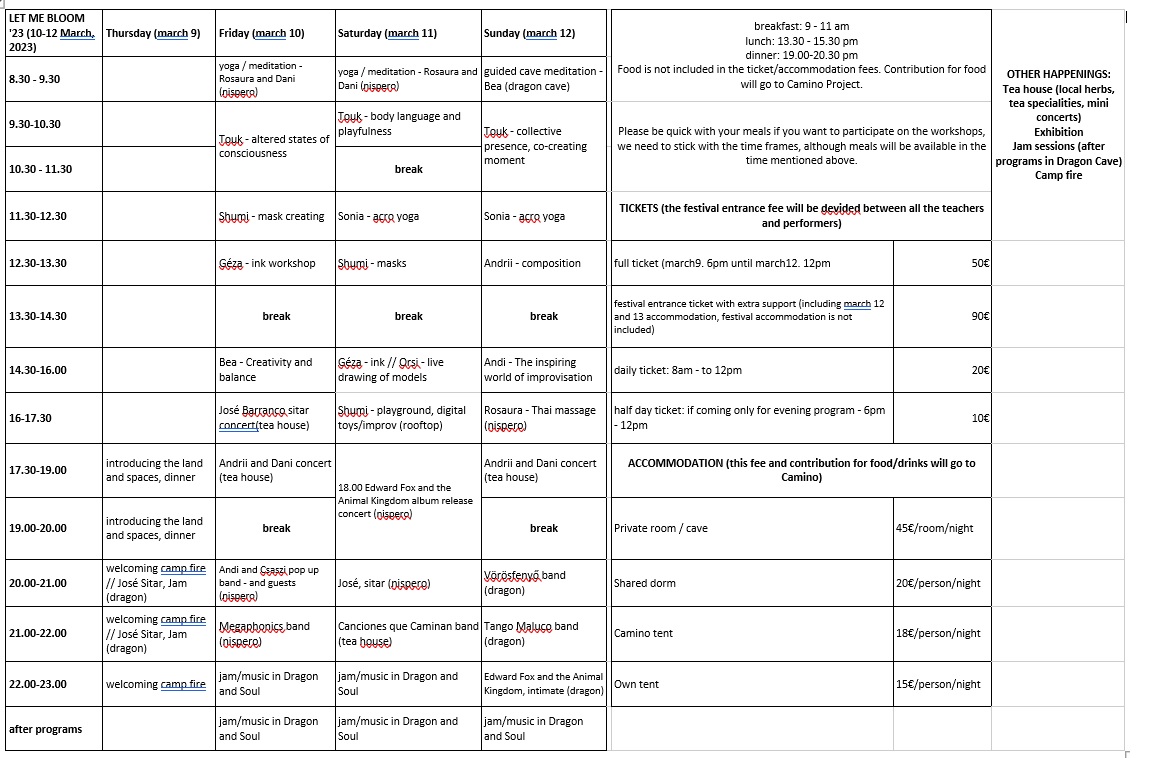 We are happy to welcome to Camino Art House for Let Me Bloom '23 the following artists/teachers: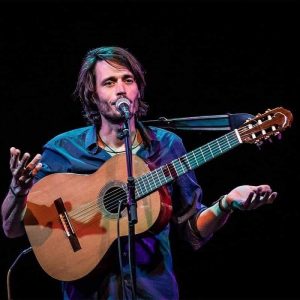 Gergely Császári, Csaszi (hu)
Songwriter, musician. His main element in life is music, and has always been. His main instrument is guitar, but likes to experiment on clarinet, piano, or more. He started his own band in 1996, and played in many hungarian formation since then. He traveled to Africa, spent longer time on the Canaria Islands to discover the roots of local music and play. "For me, music is a craft in itself, and it will never be boring for me."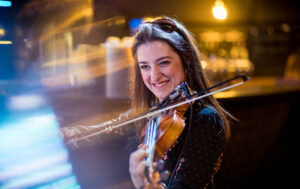 Andrea György (Andi)
She is a versatile artist, musician, jazz violin player, singer, guitarist, improviser.
She plays music since her very early years. Piano was her first love but since than she learnt to play a few more instruments and electric tools – which are allow her to play by herself. She likes to make music improvisations for contemporary dance performances and theaters, cooperating with the dancers and creating in the moment with them. She still learns about jazz and improvising in the conservatory of Budapest.
Her favorite thing to do is getting inspired by other art forms, like visual arts or dancing.
As she was learning graphic design and making animated movies, her connection is very strong to visuality, even to modern dance forms.
In this workshop she will show how to connect all the main art forms in our way of thinking, how to go through the improvisation when playing music, painting or dancing. And even will talk about the "dark side" – what to do when the inspiration does not come easily…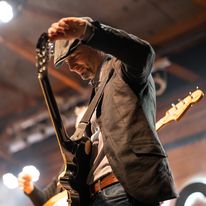 Balazs Krisztián Nagy (Balázs)
(singer-songwriter, fine artist, cultural organizer)
He gave his first concert in 1998. Since then, he has played in several bands, toured with several bands in Europe and contributed to several albums. He currently plays in three formations, and creats in alternative rock, world music and pop genres. In addition to music and songwriting, he is also involved in visual arts,his concept art works were shown in several group exhibitions.
Patrycja Szumacher (Shumi)
Edoardo Bottalico Dougie Kevin, Edo (it) and Edward Fox and the Animal Kingdom
Edo grew up with music around him, developed a deeper connection to piano in early age. He is a musician, a songwriter, an inspirator, and a fox. Edo is based in Copenhagen, but in the last 5 years he spent the winters on Gran Canaria, on the magical island where he found inspiration and a home. He is very much attached to this land, which is well proven in his famous Gran Canaria Song. After the EP last year, 2023 brought the first album for the Edward Fox and the Animal Kingdom. Edo's songs are hits. They are carefully built up and always deliver a meaningful message that represents his sensitive perspective. He is inspired by the Gran Canarian folk era just like the american heartland rock. His longtime friend and partner in music-making is Piotr Fronek, Falcon polish guitarist and song-writer. Edo and Piotr met in Copenhagen more than 10 years ago, and they create music together.
Edward Fox and the Animal Kingdom is an indie, folk, rock, pop whatever-genre-you-wanna-define-it band. Their mission is having fun, breaking borders, inspiring and connecting people through Art & Magic. Music is the cure, music is healing, music is universal. They want to help the world transcend the difficulties and obstacles of everyday life, make people rejoice, remind themselves and everyone that Life is a gift and contribute with their creativity for good causes.

Thomas Estrėmė (Touk)
Touk is a self-taught daoist meditant who followed the path of presence and alternative healing. He studied Tarot and lived without money working the earth in a community for some years before studying hypnosis in Psynapse in France. In France he accompanies artistic projects and co-organises festivals about shared governance. He is now travelling over the winter season giving workshops in Self Altered States of Consciousness and how to use them in your daily practices. His workshops: 1- Body Language and Playfulness.
We will explore the world of wordless communication and connection through games in order to meet with collective playfulness. 2- Altered States of Consciousness.
We will discover tools of Self-Hypnosis and what it means to us. With some practical exercises we will learn how to use those tools to help our daily grounding. 3- Collective presence, co-creating the moment.
We will warm up with body exercises and synchronization games before creating a space of togetherness in which we will co-create what spontaneously arises.
Roni and band
José Barranco (es)
José is an emblematic character of Gran Canaria. He is an architect, painter, potter, instrument builder and a wonderful musician. His first instrument is Sitar, he learned to play and build this magical music tool in India. His concerts are always surrounded with peace and high vibration. José is a returning performer in Camino Art House.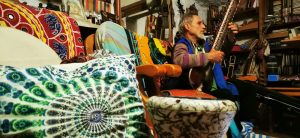 Rosaura Ruiz (es)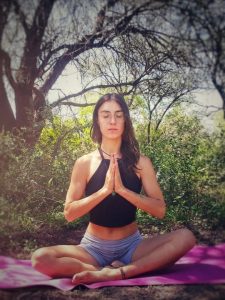 She was born in Valencia (Spain), is a certified Yoga teacher and Thai-Massage therapist, apprentice of Herbalism in the Mediterranean tradition, idealist, wisdom seeker and nomad, deeply connected with Nature. She understands the holistic healing arts as a powerful path of self-knowledge as a whole (body-mind-spirit) and towards a self-management of Health and Vitality.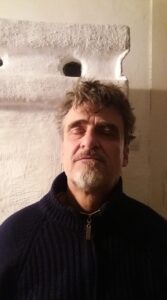 Géza Vincze, painter, musician
At the age of 10 I took part in the work of the Nagyatád International Artist' Colony, under the direction of
sculptor István Bencsik I carved marble and wood. "The ear of the world" 1975. Until the age of 10-14, I spent most of my afternoons in the fields of drawing and fire enamel by graphic artist Gitta Tomonyák, and I won an audience award at the district drawing competition. Unfortunately, despite being only interested in the fine arts, in the absence of parental support, I did not go to the Vocational High School for the Fine Arts.
During my high school years, I was most interested in various theatrical and visual media, I participated in the
creative circles of film director András Dér, I wrote and organized a scandalous Dadaist theatrical play. I've been basically a fine artist since I was a kid, but I couldn't stand the rigid atmosphere of drawing circles, so
after high school, I studied music more, while never stopping visual work. During my years at jazz concerto, I
regularly visited the Munkácsy Prize winner László Tenk. His tactful critiques helped me understand a "more
professional" point of view. It was relatively late that I realized the necessity of basic studies and I did everything I could to bring in my
backlogs.
Since 2009, I have my own website with more than a hundred paintings and fifty photos: www.vinczegeza.hu
My music world came to an end long after graduating from the jazz conservatory, with the band Electrode in
Szentendre, with whom I dreamed of a 25-year-old dream: a band playing 100% improvisation with natural
background sounds, listenable free music and spontaneous birth. I held a solo exhibition with a six-member live band and three hundred guests in my studio gallery at Apostol street, I participated in several group exhibitions in cafes and cultural centers, from Almási Square to Bondi Golf Club in Sidney.
In 2010, New York-based In. Co. Artists Books selected a publication featuring 150 contemporary artists.
In recent years, I have developed plans for a perfectly sustainable and fully self-sufficient eco-creative
residential park to the level of technical feasibility.
To fund this, I set up a garden gallery in Leányfalu, which I sold in 2012, and by 2015, until my fiftieth birthday, I had painted my visionary visions, which I "channeled" out of the collective consciousness in thirty years. I am currently working on selling the completed series and creating a foundation collection that will serve to create a sustainable eco-community.