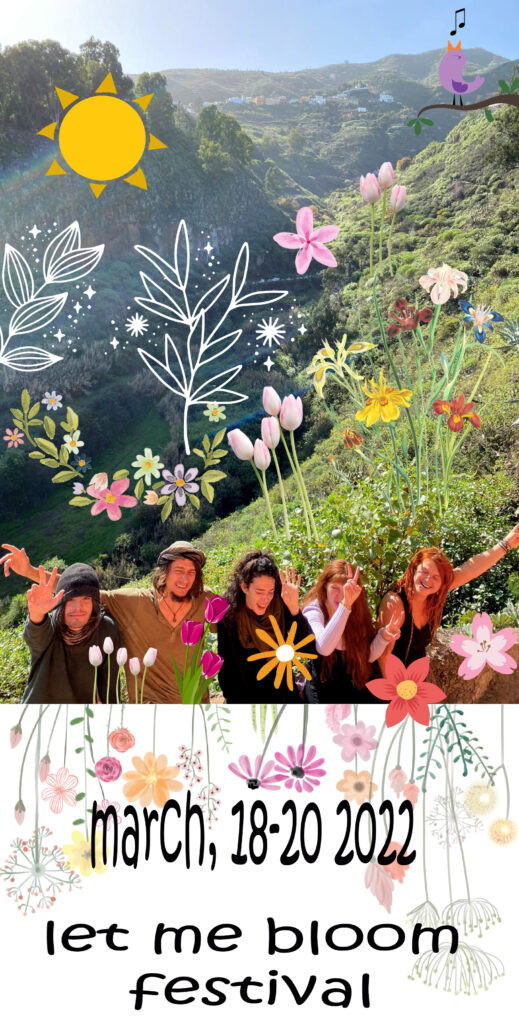 We are happy to invite you to our very first art and self-improvement festival in Camino Art House.
PROGRAM: have a look
PRICES: The entrance fee for the festival will be from the separated from the accommodation and restaurant fees. We share all the income from entrance fees between the artists/teachers. So the more of you come the festival, the more we can give to these fantastic people, and the more program/activities you can enjoy during these days.
Entrance fee: 10€/friday, 35€/saturday, 35€/sunday, 60€/full festival
Accommodation: dorm: 20€/person/night, tent: 15€/person/night (we provide the tent and equipment), 10€/own tent/person/night (you bring your own tent and equipment)
We are happy to give discounts for couples, or groups arriving together, please contact us!
CONTACT:
E-mail: bea@caminoart.org
Whatsapp: +34633339903
Web: https://caminoart.org
How to arrive: https://caminoart.org/camino-art-house/how-to-find
How to find us
IMPORTANT INFOS: read here
IMPORTANT RULES: read here
Let Me Bloom is a mini art and self-improvement festival in the wild valley of Los Mireles, in Vega de San Mateo. Spring is the time when nature blooms and a new era of growing and maturing starts. We, as humans, need this growth more than ever. We need to unlearn our toxic habits and make space for real, original values, like empathy, care, creativity, synchronicity and learning to live in harmony with nature and other beings around us.
Two essential tools on this journey are art and education. You can be creative or just let yourself take it all in; everyone will be part of the whole. We are inviting you – as an artist, performer, teacher – to use your skills and connect with our participants in your special, unique way so we all can enjoy and grow in different skills, like communication, creativity or empathy.
The festival will be a small, but inspiring three-day event in our magical valley. The venues of the different events, performances and workshops will be hidden in the land, in the caves, and under the trees. We imagine beautiful, inspiring and meaningful moments that we share while taking in, practicing, or performing art in nature. The ten mini stages will host all kinds of activities, they might be performances, where the audience is observing, interactive shows where the audience is involved, or workshops where the participants learn something new, or practice a special skill. The artists, performers, and teachers might perform their own show at one time and teach a connecting (or totally different) skill at another time in a different venue. We are all artists, and we are all students. Teaching and learning, performing and in-taking art are almost the same, we all meet in the beautiful line in the middle.
Call for artists and teachers
Camino Art House is inviting artists, performers, instructors, teachers and coaches to participate in our Let Me Bloom art and self-improvement festival in Vega de San Mateo, Gran Canaria, on March 18 – 20, 2022.
We invite all of you in the following areas of expertise (these are just ideas, suggestions, we are happy to enlarge the list):
Theatre / Theatre improvisation / Singing, singing classes and practice / Drawing / Painting / Free painting / The extraordinary world of illustration / Natural art making / Handpan music / Playfight, a playful method of connection and cooperation / Zen writing / Leaded meditation and visualisation / Collage making / Gypsy music / Jamming / African drumming / Dance / Free movement / Treasure hunting / Herbal medicines / Wild teas / Cooking workshops (vegan and raw) / Nutrition workshop / Food analyses / Enneagram and the art of acceptance / Whispering and storytelling / Men's and women's circles / Yoga as a whole / Asana practice / Mindful meditation / Music theory, where the trance comes from / many more..
Please read on if you want to participate as an artist or teacher.
Volunteers wanted
We are inviting you to participate as a volunteer. Before the festival, and during the event we will need more help than we usually do in Camino Art House. If you have time and you want to help, we are here to help us out 🙂 The following tasks will need to be covered: building stages/venues, build up tents, spatial planning, clearing paths, cleaning, cooking, hosting, supervising, etc… If you feel that you can and you want to fulfil these task before and during the festival, please read on.
We are looking for sponsors and supporters
We are looking for sponsors, like-minded friends, supporters, those, whose ideas and goals are similar to ours. Primarily we are looking for moral, social and networking support, not directly financial ones. If you are running an own project, you are a leader of an art associate, group, band, collective, if you are a like-minded entrepreneur, we would be happy to connect with you! We are happy to promote your work and your goals. Please read on if you are looking to support us in any way!
We are inviting you to spend this weekend with us!
Let Me Bloom Festival is looking for participants and visitors! If you are interested in art and self-improvement, you enjoy learning new skills, and meet like-minded people, this festival is your place on these three days! Please read on if you want to participate as a visitor.