Your contribution to the festival:
Full ticket 50€ (nov23 5pm – nov27 1pm)
Full ticket with extra support (including the accommodation price for the "landing inspirational days" on 27-28-29 nov) 90€
Daily ticket (8am to 12 pm) 20€
Half day ticket: if coming only for the evening program (6pm – 12pm) 10€
Informaiton about pricec for accommodation please read more here.
We are planning the program: please note that this program might change a bit until the starting day of the festival.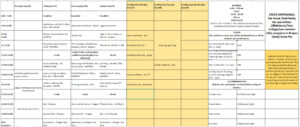 Thursday (23 nov)
Streamflow Dance Performance around 6/7 pm
The final show of the happy participants of our very first contact modern dance camp called: Streamflow, that is taken place from 17 to 23 November '23.
camp fire, live music jam
………..
On 24,25,26 november there will be ongoing programs and activities (you can choose when to attend) and many workshops, programs, performances on certain times. On this page you can read about both types of programs. For checking the time table please have a proper look at the attached spreadsheet.
on going programs:
collective collage making – on huge paper – house, corridor
tea house
abstract painting
on time programs:
Yoga/meditation
Theatre improv – Sol
Voice improv – Sol
music writing, sound making – Boti, Peti
exhibition opening: Adam headstorm (?) – Bea – desired shivering (photography from dance camp)
Contact dance / free movement – Enikő
Balance – Michael (Gravity Glue)
………..
Thai massage introduction with music – Rosaura and Daniel
Yoga in pairs with music – Rosaura and Daniel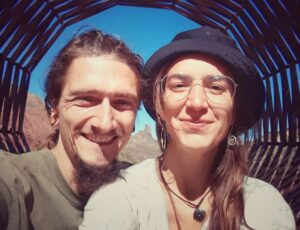 Rosaura Ruiz was born in Valencia, Spain. She is a certified Integral Yoga teacher, Thai-Massage therapist and apprentice of Herbalism in the Mediterranean tradition. She has experience guiding workshops and Yoga retreats in different locations of Europe and South America. She understands the holistic healing arts as a powerful path of self-discovery, towards a self-management of Health and Vitality.
Daniel Hartwig is a sound enthusiast from Germany, who started to experiment with the voice in his early years whilst singing in a choir. After playing music for one decade in multiple genres with local artists, he was traveling in Asia for five years, to experience different states of being through mantras and meditation. In the mountains of the Himalayas he started to play the Bansuri, marking a turning point towards a life that is lived with love, awareness, and understanding.
………..
Drum improv – Robin
Evening performances and live concerts:
Shumi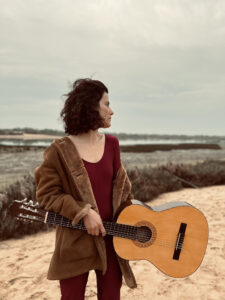 Nati Nita is a Berlin based singer-songwriter. Her musical upbringing started in her childhood, which she spent in rural mountains in Georgia. Her songs written in English and Georgian are coloured up with melancholy, create an intimate atmosphere, invite listeners to softly dive into their inner world of feelings, dream and contemplate. She has been sharing her music with her audience as a solo performer during her travels across countries during last years. Since last summer she started to have a band in Berlin, she is currently working on her debut EP with.
Links: https://linktr.ee/NatiNita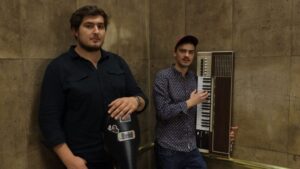 Botond Orikiss & Peter Friderikusz duo
Botond Őri-Kiss is a composer and pianist, graduated from the Liszt Ferenc Academy of Music in Budapest. Péter Friderikusz is a cellist living and working in Budapest, also a music academic graduate, who searches for and finds himself in many styles.
Fate brought the two musicians together in a very inspiring solfège music theory class, and their friendship and musical collaboration was clear after the first meeting. In their fresh, experimental formation, classic, repetitive and ambient sounds are mixed, this time in an acoustic line-up.
cave meditation – Bea
The cave is a sacred space. It is timeless, as there is always a gentle light, either by the golden sun, or the candle flames. It is warm, as the temperature never drops under 15-16 celsius. Protective, receptive and powerful. You feel like you are one with nature. You breath with the earth and know the wisdom of the stones. Sitting in this unique place is a perfect start of an inner journey.