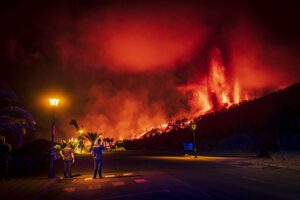 We are aware of the difficulties that people are facing on La Palma right now, and we want to help. Since the eruption of The Cumbre Vieja volcano on 19 September more than 5000 people were evacuated on the island. The movements are still active and the lava is still flowing. Many people lost everything and families need to find a new way of existing. We are trying our best to find a way to help those who are in need so we start a program, that will run in the next few weeks.
If you book and stay with us until the 10th of November, half of your booking fee will go to the people in need on La Palma.
We are in contact with the Red Cross and will follow up on the donation we are offering for the people who have lost their homes. We kindly ask you to use "for La Palma" as a reference in your booking, and use whatsapp: +34633339903 or e-mail: caminoarthostel@gmail.com for your reservation.
You can read some important information about the eruption on La Palma here.
Take care and hope to see you soon in Camino!
The Camino Crew
(photo credit: elpais)