We invite you to explore the beauty and the power of your Creative Energy to discover and nurture your Authentic Self and enjoy your self-expression. Create to Connect is a Creative Inner Journey of self-exploration, self-expression, and transformation through artistic tools. It will be a journey inside us to process who we are in this particular moment of our life and becoming aware of all the aspects of ourselves.
Expressive Art is a safe and sacred space that allow us to fully explore and express our emotions, needs and wishes. Through the creative process, we can Connect with our Inner self, unlock our full potential and open the Heart for a Personal Re-birth. This can support us in moving forward in our lives, be more aware, use personal resources outside the workshop space, built authentic relationships.
Through this creative journey, we can connect (or re-connect?) not only with us but also with the the others, we can create interpersonal connections and discover our Inner self in the stories of the others and thanks to the process of the the others. The power of the creative energy of the Group is a wonderful gift to experience.
The Process
Our instructor and guide, Flavia Santillo will promote a safe and positive space that helps participants in the creative process, self-expression and the self exploration. All workshops are based on holistic approach where the Body movement and expression are the important key of self development and healing. In each session she will guide you through different artistic exercises and task that combine Body, Creativity and Guided meditation/visualization, in particular they include Intuitive Painting, Expressive Movement, Drama and Journaling.
Every workshop always start with a Welcome Circle , followed by a Body activity (ex. breathing, gentle warm-up, expressive movement) linked by a deep and emotional work through other artistic tools. Guided meditation and visualization help us to be in touch with our Inner world and awake our intuition. Sharing Circle will be an intense end important moment that gently will lead us to the end the session.
The Program
Friday 19.11
17.00-19.00h Welcome Circle and I AM ME workshop
(creative presentation from participants)
Dinner
camp fire
Saturday 20.11
8.30h Breakfast
10.00-13.00h CREATE TO CONNECT workshop
(Guided imagery -Expressive Movement- Journaling)
Lunch
15.30-18.00h LIGHT AND SHADOW: HEALING MASKS workshop
(Drama, Movement practices and Plastic Art (mask)
Dinner
camp fire
Sunday 21.11
8.30h Breakfast
10.00-13.00h INNER SELF AND INTUITIVE PAINTING. Shamanic journey. Workshop
(Shamanic Journey, Intuitive Painting and movement practices)
Lunch
15.00-18.00h ACTS OF FREEDOM: CREATIVE EVOLUTION workshop
(Medicine Dance, Guided Imagery, Painting)
End of program and greetings
Comfortable clothing is recommended
Our instructor and guide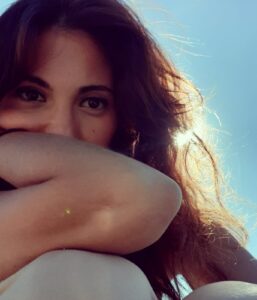 Flavia Santillo, artist, holistic therapist and traveler. She graduated in Clinical psychology in Padua, she had a strong interest in creative therapies and she took a second masters in Drama Therapy near Milan. She didn't follow the traditional path of psychologist and she started to travel around Europe. She lived in Madrid and then in Edinburgh where she deepened new techniques and practices such as Intuitive painting, Mindfulness, Zen writing, Expressive movement. She promote self-development and healing workshops and individual consulting through expressive arts. Recently she is deepening her interest in Energy therapies especially healing chakras practices, shamanic healing and feather stone energy healing.
Everyone can join this workshop, whatever your skills or age is. You do not need prior experience. 
Contribution:
85€ / person (including accommodation in shared dorm, food and workshops)
115€ / person (including accommodation in private room, food and workshops)