We are inviting you to spend one or more exciting, unforgettable and serene days with us discovering Gran Canaria's hidden corners and learn about it's natural gifts and history while enjoying a day or two in good company.
DATES – these trips are suggestions, if you are interested in different dates, or different tour on a certain day, please don't hesitate to contact us, because we might be able to be flexible
NOV 13 – Northern Trip (1 day)
NOV 14-15 – Central Trip (2 days)
NOV 17 – Beach Hopping Trip (1 days)
NOV 18-19-20 – The Cave Tour (3 days)
NOV 22-23 – Island Circle Trip (2 days)
…..
DEC 21-22 Heart Chakra (Tamadaba sunset) trip (2 days)
DEC 24 – Beach Hopping (1 day)
DEC 25-26-27 The Cave Tour (with Christmas dinner) (3 days)
DEC 29 – Northern Trip (1 day)
DEC 31 – JAN 1 – Central Trip (with New Year's Eve party) (2 days)
…..
FEBR 1 – Heart Chakra (Tamadaba sunsest) trip (1 day)
FEBR 2-3 – Central Trip (2 days)
FEBR 5 – Pizza Slice and Full Moon Trip (1 day)
FEBR 6-7-8 The Cave Tour (3 days)
FEBR 10-11-12 – South and Central trip (3 days)
FEBR 14 – Beach Hoppin and Sunny Valentine day (1 day)
…..
My name is Bea. I have been living on Gran Canaria for 12 years. I can guide you around the island and show you my favorite places. I can't promise a luxury car with heated seats and Champagne but i can definitely take you to the most amazing hidden spots of the island to get to know the real Gran Canaria.
I am an experienced driver, so you just sit back and enjoy the ride. We will plan the trip together as a group. I prefer to consider our destination on the curiosity of my guests, on the daily weather conditions and the exact day of the trip (is it a festival, weekday or weekend, is it the day of the market, is it morning or evening, is it full moon, high or low tide, etc..) we will always try to avoid the mass of tourists which will give us more space and silence to discover the land. One more important thing: if you like to get lost and find new amazing places, i'm also into it, we will have enough fuel to get home safe! 🙂
Our group will be maximum of 9 people, vegan breakfast and dinner are included in the two or three days trips, and healthy snacks and water during the discovery days. I will always advice on what kind of clothing will be suitable for the trips, but in general: it is always good to have flip-flops, swimming suits, hiking shoes, rain jacket, and sun cream with us. We never know if we end up on the beach after a mountain hike or not 🙂
Gran Canaria is a magical place in many aspects. It has micro-climates that makes so much difference between the flora in different part of the island. During the day you will learn about the local flora and fauna, and discover the rich history of the land.
You have different options to choose from if you want to take part in our day trips:
1.
One day trips
(1 day discovery) — from 65€/day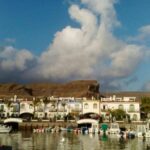 This is your choice if you need a day out in nature with like minded people. We start from Las Palmas and we arrive back there. It will be a long day full with new experiences and beautiful landscapes. You will learn about the flora and fauna and the history of the island. I will bring you to places where tourists never go.
Two days trips (1 night + 2 days discovery) — 110€ – 150€/person/trip
If you are looking for a short but meaningful escape, we recommend this trip for you. We spend two full days with discovering the land, and we sleep one night on the way, which gives us more possibilities and time to spend on the road and in nature. The accommodation that is included in the price is a basic dorm-type sleeping arrangement, but if you need something more special, please let us know and we will do our best to serve your wishes. The accommodations that we choose are always authentic places with their own character and charisma. Dinner, breakfast and snacks are included in the price. We offer lower price options for more participants.
Three days trips (2 nights + 3 days discovery) — 190 – 225€/person/trip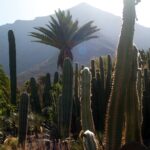 This is an extended version of the two days trip. We will sleep in two different locations, and see much much more from the island. This trip feels like a real road trip with a lot of time spent in nature. Good conversations, beautiful landscapes, lot of fun, and meaningful moments are expected. This is your trip if you are looking for a class-trip-kind experience. Lower price options for more participants.
The Wonder Trip / The Wonder Trip Adventure (2 nights + 3 days discovering) — only private tour! — around 400€/person (depending on the personalized programs and number of participants)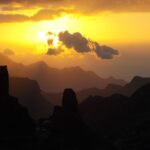 The Wonder Trip Gran Canaria is one of our specialties. This is a surprise trip, and it is designed for your taste after answering a few questions before your trip. This is always a private tour, can be for two people (romantic and adventurous get away) or for a group (you want to wonder around with your family or friends). You will be guided through the best destinations and adventures that you were dreaming of. Every step will be a surprise, but you will feel that this is exactly what you were looking for. We study your taste and ideas of your dream trip before we organize the Wonder Trip for you, so you just need to sit back, and enjoy what comes. If you like a bit of an adrenaline lifting experiences, choose the Adventure trip, and you will be thrilled with a surprise adrenaline drop.