Giuliana Marigliano. Such a unique phenomenon! So young, so elegant, smart, stylish… and sassy! She has something to tell! But no, don't think she talks too much, she is telling her stories through her illustrations.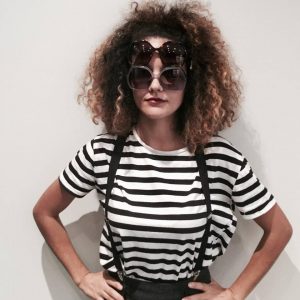 This little girl with big hair from Naples is a very talented artist. Camino Art Hostel was so lucky to welcome her works in October, November, and December in 2018. Here, you can read her comments about the exhibition.
Camino: How do you choose a topic for your drawings? What moves you? What inspires you?
Giuliana: Mostly I just look around. I love people, their expressions and I love telling stories. I imagine their lives and I tell them with lines and colors without looking for aesthetic perfection, without an impeccable technology, the realist reproduction is very far from my understanding of creativity. In fact, the illustration is to tell what is not written, "to give light to understanding".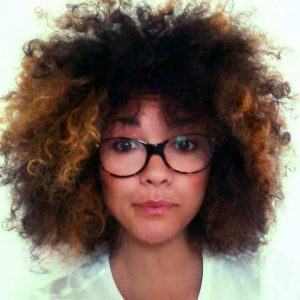 Camino: How did your artwork improve until you got to the present state? I feel that your work is getting more pure, more clear, more simple in the way of using figures, colors. But I also have the feeling that your work has more story to tell at the same time.
Giuliana: Of course there is a lot of work and study behind it. Beyond the personal projects, my work is responsible for commissions and therefore needs to be adapted and respects guidelines, for each target a different language must be used. Obviously, over the years I have experimented with different techniques, creativity has no limits and this is the aspect that I love most of my work.
Camino: How do you feel as an artist on Gran Canaria? Do you feel easy to create? Are you motivated? Are you inspired? Is there an audience of art on the island?
Giuliana: Gran Canaria is light, it is music, it is people, noise and silence. My hometown is Naples, it is also a great source of inspiration but in a different way. Those in need of space, calm rhythms and iodine smell will no doubt find a perfect place in Gran Canaria. I am lucky to have my home workspace and not have the obligation to be tied to a fixed place, in the future maybe I will change the city, who knows … my desk is my world and I personally like to concentrate among my personal items. Every artist has his own, I know artists who live here who have found numerous co-working, laboratories, and multi-purpose spaces. They are opening up more and more signal that something is changing in the art scene.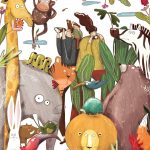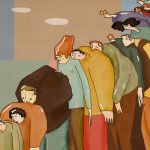 Camino: What brought you to Gran Canaria? How did you adapt to this little Spanish island as an Italian artist?
Giuliana: I arrived here for love, I wanted to leave Italy and move to Berlin, I always liked the European cities. At the beginning I was a bit skeptical, I could only see the island on the surface: an agglomeration of tourists, divided by season and surfers who enjoyed life and the other, I was neither one nor the other. In 8 years, however, I discovered this, an artistic reality that I did not believe (I'm honest, I had a lot of prejudices) in fact, you have to look, know how to look and feel like getting involved.
Obviously, it remains a small island and we are far from the great cultural and artistic offer, and sometimes we try to break with tradition and to feed a bit of "contemporaneity", but there is space to be seen and heard.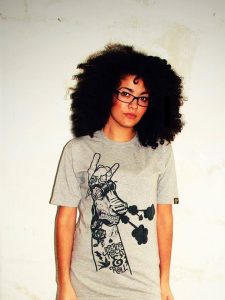 Camino: What do you think about Camino Art Hostel? Have you ever had your work exhibited in a hostel before?
Giuliana: I had the pleasure to exhibit in the Camino in October 2018. I've never been there before. The place is lovely and I felt like I was catapulted into another dimension like I was in another time in another place. I exhibited a series of intimate illustrations on love relationship and the scene, the environment of Camino and the background music were a great frame for the opening.
To know more about Giuliana please visit her website here.