ALIONA YAROVICH, PORTRAIT AND FAMILY PHOTOGRAPHER VISITED CAMINO ART HOSTEL NOT LONG AFTER IT OPENED. SINCE THAN SHE IS CONSTANTLY PLANNING TO RETURN AND MAKE DIFFERENT PHOTOGRAPHY PROJECTS AT THE HOSTEL. IT SEEMS, THE PLACE INSPIRED HER PRETTY MUCH! LET'S SEE WHAT SHE IS TELLING ABOUT OUR LITTLE EMPIRE:
"Camino Art Hostel is one of the most beautiful and peaceful places I've ever been to. Knowing Beata, the owner, I can tell that this place is made with heart and soul and I think that everyone who is tired of busy life and things of that kind can take a break and go to this place. This place really brings you at peace and makes you feel in tune with yourself. This place inspired me to make my photography project 'Dime' about people all over the world and their stories that are worth sharing. I hope I can come back there one day and continue my project."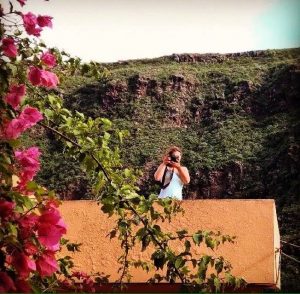 Aliona Yarovich started to take pictures 5 years ago. She did different kinds of photos (events, weddings, children, individual portraits, fashion) and right now she is focused on portrait and family photography. She currently lives in St. Petersburg, Russia and travel quite often.