We are happy to invite you to participate in our very first Chakras Retreat at Camino Art House. This is the time to experience the power of nature, work with it's energies, and connect to your chakras. Through yoga practice, meditation and theories you will learn about your chakras, their main role and their extended funcions.
Engage in a meaningful journey through your energetic centers, in search for a balanced state in body and mind. Get in touch with the Chakras and the energetic body as a whole in theory and in practice. For this retreat we will use tools like carefully designed Yoga sequences, Pranayama breathing exercises, guided meditations, movement practices and self-expression, as well as different methods to explore the Elements and their related energies. The sessions will be accompanied by a variety of musical instruments, creating Chakra-specific soundscapes to enhance the connections within ourselves.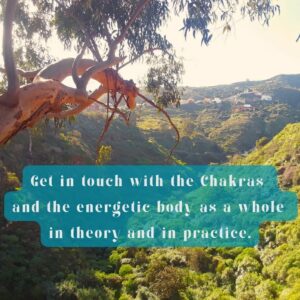 The experience will be completed with a healthy and delicious vegan menu. Three meals will be served per day, with ingredients influenced by Ayurvedic principles. The surroundings will also play an important role, because all the activities will take place in
Nature, in the beautiful 'barranco' that also holds the cave-rooms and camp area for a very quiet and renewing rest.
We invite you to join us on our Journey Through the Chakras retreat, which will take place in Camino Art House from 23th to 27th August 2023. Check the website for all the details and schedule: www.chakrasretreat.com
During the 5 days reatreat you will experience:
– Yoga classes and guided meditations with a certified teacher.
– Chakra-specific acoustic soundscapes.
– Understanding of the Chakra theory with tools for further study.
– Nourishment from healthy vegan food influenced by Ayurvedic principles.
– Reconnection with Nature in a beautiful valley.
– Self-expression as a self-development tool.
About the facilitators: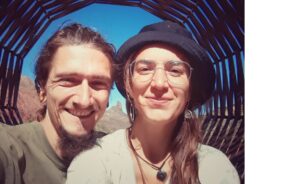 Rosaura Ruiz was born in Valencia, Spain. She is a certified Integral Yoga teacher, Thai-Massage therapist and apprentice of Herbalism in the Mediterranean tradition. She has experience guiding workshops and Yoga retreats in different locations of Europe and South America.
She understands the holistic healing arts as a powerful path of self-discovery, towards a self-management of Health and Vitality.
Daniel Hartwig is a sound enthusiast from Germany, who started to experiment with the voice in his early years whilst singing in a choir. After playing music for one decade in multiple genres with local artists, he was traveling in Asia for five years, to experience different states of being through mantras and meditation.
In the mountains of the Himalayas he started to play the Bansuri, marking a turning point towards a life that is lived with love, awareness and understanding.
IMPORTANT QUESTIONS – FAQ
Is the retreat for all levels or do I need previous experience?
Both begginers and regular yoga practitioners are welcome!
Where is exactly the location? How to get there?
Camino Art House: Calle V. Molinos 4, Vega de San Mateo, Gran Canaria. Reach it from Las Palmas San Telmo station by bus (number 303, 48min). The closest stop is El Chorrillo. From there walk the road back for 4min: you'll find some houses in the turn. It's the one in the back!
What is included in the price?
Daily guided activities, printed theory, materials for art workshop, accommodation for 4 nights in a shared or private cave room or in tent (beddings included), daily breakfast, lunch and dinner.
What facilities have the location?
We find the activity spaces, cave rooms and the tent area in the land of Camino Art House, immersed in the natural surroundings. There are several dry compost toilets in the land, as well as two outside cold showers. Wifi is available in the building, which also has one toilet and two hot showers.
What exactly are the cave rooms? How is it to sleep in a cave?
In Gran Canaria there is an ancient tradition of using natural caves as accomodation. The caves are very comfortable, because they keep a balanced temperature during day and night. They are open to the outside and the interior is basic and include the beds with fresh beddings, as well as a table and candles. There is no electricity in the caves, but electronical devices can be charged in the house. The caves are located at approx. 160m from the house and 30m from the outside showers and dry toilets.
Can I bring my own tent?
Tents with beddings are provided but you are also welcome to bring your own tent. The price remains unchanged.
What should I bring? Are yoga mats provided?
Yoga mats are available, but you are welcome to bring your own. Bring comfortable, loose and light clothes for the activities, a bottle for drinking water, a hat or cap, notebook and pen if you wish to take notes and appropiate shoes for walking in nature. Please consider to bring only natural cosmetic & hygiene products.
How is the payment done?
Payment is done through bank transfer to the account we provide when you book your place.
What is the cancellation policy?
The payment is not refundable. We cannot cover unforeseen events like weather changes or other disruptive events interfering the normal progress of the activities. But if due to 'force majeur' we have to cancel the activities for a whole day or more, you will be refunded accordingly.
I have food allergies or special dietary needs, what should I do?
In the moment of booking communicate with us your needs.
I have allergy or phobia to animals, are they present in the location?
In the house and the surrounding land lives one dog and six cats. All of them very friendly!
I have serious injuries, health issues or motricity difficulties, can I join?
Unfortunately, many activities involve movement, and the location is not adapted to persons with serious movement limitations. Some of the activities are also not reccommended in case of high blood pressure and related health problems. To be sure of your specific situation, just contact us!
I am pregnant, are the retreat activities safe for me?
We don't advise to participate in the retreat during pregnancy.
How is normally the climate in the island in the dates of the retreat?
For this period the historical temperature rates are 28°C to 22°C, being the dry season of the year. This being said, the climate is dynamic and can always exceed our expectations.
I would like to meet the facilitators through videocall before booking my place, is that possible?
Of course! It would be our pleasure to meet you and solve your questions. Just contact us to arrange the meeting.