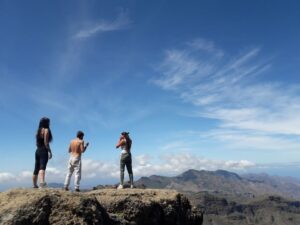 Welcome to our Free movement, and Free dance workshops at our small hostel in the green hills of Gran Canaria in Camino Art House.
This is an event where you will open up, learn about your body, relax and get inspired by free movement and music or silence. Don't worry if you don't have any experience with dancing, you don't need any, or if you have, use it and put all your knowledge into a new direction.
Have you ever experienced that when you feel good in you body, you feel better in your head and in your heart too? When your moves are easy and you are just flowing, somehow things get into their places around you? This is a perfect state to come up with new ideas, to create unexpected things, to finish long overdue work, or just be happy in your body.
We are inviting you to learn how to balance your moves, how to free your moves and how to create your perfect body state for yourself.
The Free movement and Free dance workshop in Camino will be held some very amazing people: Marijana Kondres (HR) dance lover and 5 element dance instructor, Ylenia Álvarez (ES) dance and intimicy instructor, Kristof Rona (HU) hatha yoga instructor. Program co-ordinator and meditaion: Bea (HU) hatha yoga instructor and inspirator.
They will teach you how to use your body, and put it in a comfortable, natural position, in the centre of your existence, where you can find your freedom, your free flow and confidence.
And when you find all these, you will find amazing things: you will find joy, freedom, creativity, and power. Power to bring your ideas alive, to communicate with ease and understand others better. Your attention will open and your focus will sharpen. This is a perfect event for you if you want to relax, release stress, move your body and soul, reconnect to yourself, learn new methods of self-care, re-freshen your energy flow or get inspired.
Program:
Jan 15. Friday
6pm – arrival / introduction – choosing your topic
7pm – meditation – in the cave, with Bea
We invite you to a mediation session in one of our natural caves. These caves are perfectly silent, and perfect little spaces to switch off from reality and bring your focus to your inner peace. You will learn that being still is actually helping the flow of the movement and also help you to get know your body.
8 pm – dinner / camp fire
Jan 16. Saturday
8am – warming up, yoga, meditation and bringing your focus to your topic
9am – breakfast
10am – 5Rhythms dance with Marijana
Here we detail the five Rhythms that all forms of dance and creative movement have in common: body, action, space, time and energy. Each element will wake up a different energy and give you new insights about your life.
No previous experience necessary and neither to be a dancer.
12am – Dance and confidence with Ylenia
Ylenia will guide you through your doubts and show you the way how you can free yourself, let your emotions drive your body, and express yourself without words .
We will move and dance in the safety and beauty of the valley, connecting to ourselves, and to our surroundings. We let our truest dance express itself without pressure, without going after it, it appears when we sink into ourselves. Nature will always hold us with her earthy smells, poetry, silence, sounds and open arms. Welcome to a different dance, your truest dance, to a deep connection with nature and therefore: yourself. No previous experience nor being a dancer necessary.
1.30pm – lunch
3pm – movement and balance with Kris
When you find balance in your body, you will find balance in your world. There are specific way to learn to bring balance in your body and mind. Kris will teach you how to practice these. How to come from one balanced state to another balanced pose, how to move with confidence to reach your own balance. This is a perfect practice to learn about yourself, to see where you actually need the balance in your body and state of mind in this period of your life.
5pm – Playful Movements with Bea, Ylenia and Kris
Playing is a natural source of joy. Playing with your body is one of the earliest actions we learn as a baby, but how we grow we forget this joy. This is a good time to remember, and learn again how to play with our body. We will roll, jump, turn up side down, throw and catch things, and figure out how to connect to others with confidence, and joy.
7pm – sharing and processing experiences – we will talk about what we have learnt and how did you own topic developed
Of course, beside the leaded actions, as always, there will be healthy snacks, good company and inspiring vibes during the full workshop.
Contribution
For the full program, one night (Friday) at Camino and the meals we are asking your contribution of 45 euros. There is also optional to have dinner on Saturday, and sleep over in Camino, which is an extra 15 euros. but you can also catch the bus in the night hours on Saturday at 9.30pm or 11pm to get back to Las Palmas.