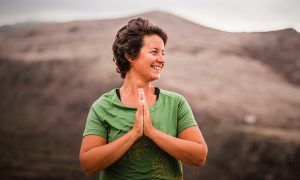 Would you enjoy a few hours out of the city? Surrounded with green hills, nice people, good food and the creative energy of art making?
If yes, please sign up to our events on every second Friday: we start the day with a gentle Hatha Yoga session at 10am.
We continue with a light healthy breakfast and natural herb tea while listening to the hundred birds of the Valley de Mireles and enjoying the stunning view. Than we do a bit of an exercise to walk to the famous farmer's market in San Mateo, where you can do your healthy shopping for the weekend. In the early afternoon we sit down for an hour and half to create something nice that you can take home.
Yo'Camino Fridays
10 am – 11.30 am Hatha Yoga on the roof (at Camino Art Hostel)
11.30-12pm light breakfast and tea break
12pm-2pm walk to farmer's market in Vega de San Mateo (easy 25minutes walk, one way, we can walk back or take the bus with the shopping)
2pm-4pm Creative Art Workshop
When?
20 April – Mandala workshop (what mandalas are, how andw hy do we use mandalas)
04 May – Color therapy workshop (how do we use colors for energizing, how colors are effecting our life, choose your colors)
18 May – Watercolor workshop (basic techniques and insider tips)
01 June – Doodle techniques (what doodles are, why are we doodling, and what are their use)
Where?
at Camino Art Hostel in Vega de San Mateo
How much?
7€/person for the each Friday
The language of the event is English, but we speak Spanish too.
This is a family and pet friendly event series, we are happy to welcome kids and dogs too 🙂