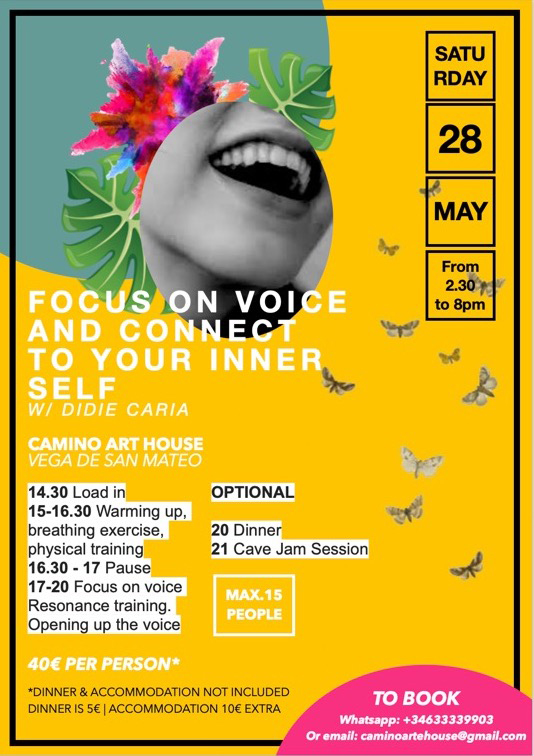 28th of May, Saturday
14.30 to 20.00
at CAMINO ART HOUSE, Vega de San Mateo
Contribution: 40€/person
Voice is the instrument of transformation. By connecting to our voice we connect to our core and we are able to manifest our deepest self. The body is the house where the voice lives. Trough a physical and resonance training we will work to release the tension in the throat to open up our voice. Our natural unique voice.
The workshop takes place at Camino Art House, where the caves and the special surrounding of the valley will give a perfect venue for the voice practices. The caves are unique spaces, they behave like silent rooms that gives an opportunity to work with the sound in a very authentic way.
The workshop is open to all the voice lovers, and you don't have to be a professional singer. Dress in casual to be able to work in nature and lay on the ground. If you play an instrument please bring it for the after dinner jam session.
28th May
14.30 — Load in, arriving.
15.00 – 16.30 — Warming up, breathing exercise, physical training
16.30 – 17.00 — break
17.00 – 20.00 — Focus on voice. Resonance training. Opening up the voice
Optional:
20.00 — Dinner
21.00 — Cave Jam Session
After the workshop we are inviting you to stay for dinner and for the cave jam gathering. There is possibility to stay over in the Camino. Dinner and accommodation are not included in the price, they are extra 5€ for dinner and 10€/person for staying over.
The maximum number of participants is 15 people, so please reserve your place before the group fills up.
To book please contact to Bea on whatsapp: +34633339903, or e-mail: caminoarthouse@gmail.com