Emily and Andrii, two of Camion's volunteers, decided to make a children's book together. It took them only a few month from the first idea in december '22 until the book was published on 22nd of May, 2023. Camino is a great place to find new ideas, and to act on them, either by yourself, or with a collaboration with someone else. I got very interested on how this book creation happened, so I asked a few questions of my ex volunteers. I am hoping there will be many similar, creative and beautiful stories in the future.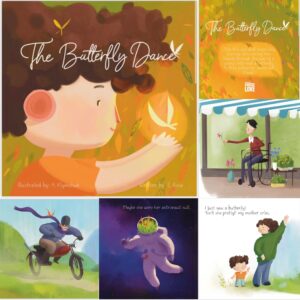 The Butterfly Dance follows the fun and surprising journey of a young child and a butterfly as they discover true beauty, even in the ordinary.
I first questioned Emily about this arty experience.
How did you come up with the idea of the butterfly dance book?
It all started last summer when I was walking to my local lake. It's a long, scenic walk so I write poems in my head. I can't say exactly what I saw without giving the story away but a very simple sweet moment happened and it inspired a poem. That poem then sat in my notes, forgotten, until I met Andrii at Camino.
Did Camino inspire you in any way? How did it help in the process of creation to be in Camino?
During my time at Camino, I wrote 50+ poems and filled two notebooks with thoughts- the most I have ever written at one time. I had never shared my writing before, nor really believed that it would be enjoyed by people other than me. With time, and great people around me, I started sharing my poems. I soon mentioned a possible book and Andrii said he could illustrate it. The book would still be forgotten in the notes app of my phone if I hadn't met the incredibly kind, creative people in Camino.
What is your experience, is it easy or difficult to work in camino, in the term of making art?
Like I said, I didn't stop writing during my time there. I would sit and watch people talk over dinner and write, I'd watch Andrii and Hannah draw and write, I'd get lost on a sad day in nature and write. Everything and everyone inspired me, the environment allowed it to flow effortlessly.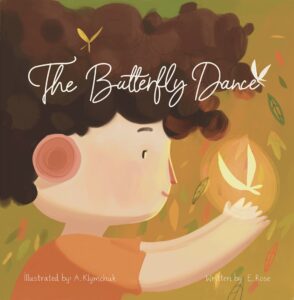 Is this book a starting point? Are you planning to write/publish more books? Will you stay with children's stories?
I'd love to write more children's books. I think I want to write as many stories as possible, I'm sure some will be good and some not so much, and then choose 1 to make the next book. I'll also keep writing poetry but I think I will return to keeping those private.
What is your favorite thing about this book? If you think of the whole process, starting from the first idea until the publishing, which part warms your heart the best?
I think the sense of accomplishment from holding a finished copy is the best part. I was part of creating something beautiful and it feels incredible to have that in my hands.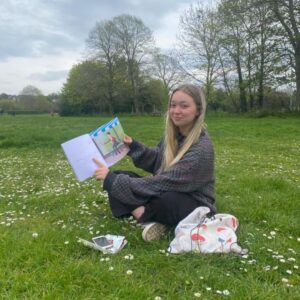 How was it to work in collaboration with Andrii? Camino is a great mixture of different artists, and one of the ideas of the art house is to find partners in art making, or in other creative works. Do you think Camino fulfills this idea?
I think the book would have never been created without Camino. Camino mixes music, art, poetry and nature – it also brought together incredible people to share art with.
What is the thing that you like the best about Andrii's work? What do you think about how his drawings and your stories fit together? Did he deliver something that you planned or did you let him create freely, and it was a perfect match?
I think Andrii's art is by far the best thing about this book. I adore every single page, every thought and idea that I had was made even better by him. I'd say for the most part, he created freely – we wanted his style in the book. We discussed word placement and logistical things together but the art all comes from him. He brought the story to life and made it breathe.
What is the message of the book?
The message of the book is that everything has beauty, even hidden in ordinary things. There's a little bit of magic everywhere, even if you have to look a little deeper in that thing or yourself to find it.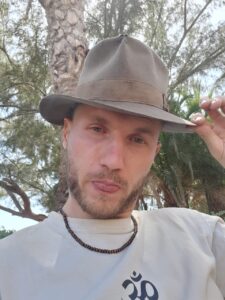 Andrii arrived to Camino a few weeks before Emily, and they quickly had a strong bond. Andrii is a great artist, spent many hours in different spots of Camino in silence, and just draw on a piece of paper he found or on his laptop.
How did you come up with the idea to cooperate in making the Butterfly Dance book?
Well, it was a spontaneous idea, as far as I remember. Emily saw me painting and she asked me if I wanted to make a book together. She already had the poem written. After she read it to me, without any hesitations, I said yes.
Did you illustrate others books already or is it your first book?
I was working as a book illustrator for about two years and illustrated a number of books as well as other projects.
What was your experience in working in Camino? Was it difficult or inspiring?
I think it was a perfect place for it because it has this special creative atmosphere and incredible nature. The place itself is a pure inspiration.
This is the first time when two volunteers collaborate and make an art project come true. How do you feel about that? do you think Camino is a good place for collaboration? or for actually making a dream come true?
Camino is full of artists and creative people and it's just a matter of time when the next art will happen. People here collaborate on a daily basis doing yoga, meditation, art, all sorts of things. And it all happens naturally. I feel really lucky to be there and actually to have a chance to participate as a volunteer.
Did you need to face professional challenges? What were they and how did you deal with them?
The main challenge was to decide how to break the text in to pieces and create and illustrations for each of them. Honestly, it was more or less smooth process with just a few adjustments we arrived with solution that worked for us. The challenges kind of solved themselves and the answer came with the time. we took it slow and the book was ready in a few months from an idea to the finished project.
How was the working flow with Emily? The Butterfly Dance book was her original idea, how did it feel to when she wanted to include you into this project? How did your working process develop?
The project developed very smoothly without any problems really. Mainly because it's our book and a collaboration 50/50. Therefore i felt it was more like making a personal project rather then work.
what do you think of your ready art pieces in the book? Are you satisfied with your work? What is your next step? Are you going to make more books together?
It's very difficult for me to feel satisfied with my art, but this book specifically is an exception. I had full creative freedom to do illustrations in any style as I wanted, as long as it communicated the idea. Emily fully trusted my personal taste and I hope the result is speaking for itself. So far we don't have any plans to make the next one, but we received many positive comments and reviews which can be a good motivation to create more books in the future.

The Butterfly Dance book is available on Amazon or contact @thebutterflydancebook on Instagram directly for a cheaper price.
Emily Rose is also known as Emily O'Reilly. she is a 25 year old poet, teacher and now author. She was born just outside of London and started writing as a child. She wrote short stories and attempted novels throughout her childhood until she fell in love with poetry as a teenager. For as long as she can remember, she have experienced life through the lense of poetry; it has become a way of thinking as much as a hobby.
At Camino, she wrote something new to her – a children's book. Together, with Andrii, they created 'The Butterfly Dance'. Although her poetry will return to the privacy of her notebooks, she wants to keep writing and sharing stories for children. It's an exciting and surprising direction that would have never been possible without the incredible, artistic environment of Camino or the people there.
Andriy Klumchyk is a self-studied illustrator and artist, born in 1995, Ukraine. From 2018 he was working as a freelancer for international clients. Had worked on various projects including character design, book illustrations, song covers, picture film, nft, game design. In 2022 had started to work on personal art, making murals, and had an exhibition in Camino Art House. In 2023 made a book with E. Rose called Butterfly Dance, which is mostly a charity project made to support children's of war in Ukraine and around the world.
interview by
bea
camino art