10th March and 16th March, 2022. 7pm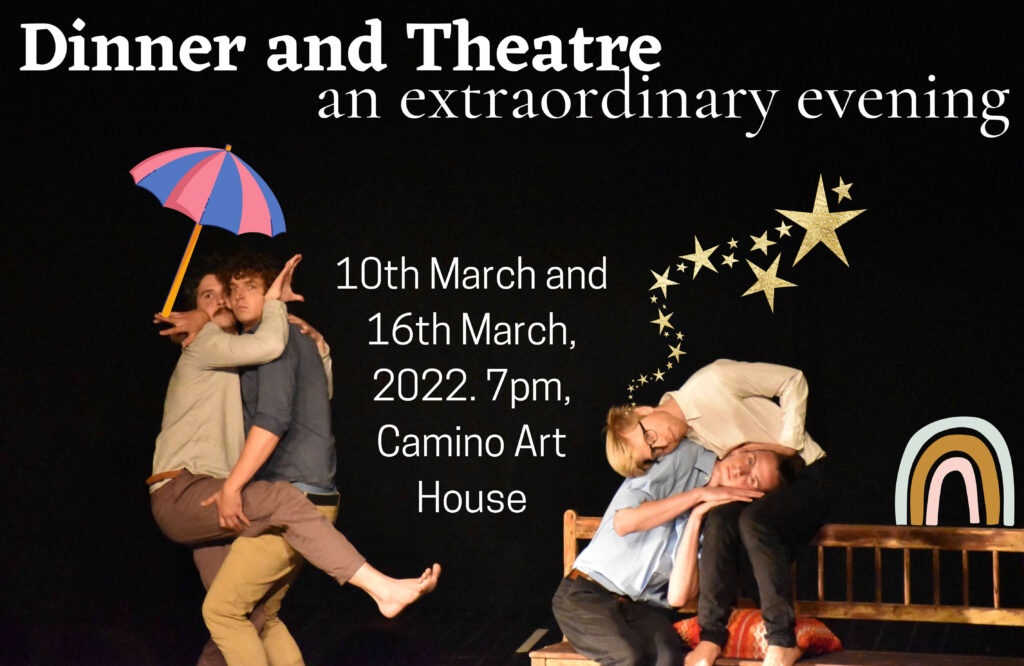 Sharing a delicious meal and the experience of an extraordinary theatre show are two things that many of us consider as joy and unique moment in life. Why not combine the two? On this evenings you will enjoy a family dinner with people you meet at the first time, but for sure you have something in common: enjoying food and theatre in life.
We are happy to host a very special theatre group at Camino Art House in March. Václav Wortner has spent many weeks and held theatre improvisation workshops at Camino Art House in 2021. This time he returns with his group called "Us Boys Who Go Out Together".
ABOUT "US BOYS"
What happens when a Moravian actor, Australian circus performer, Slovakian mime, and Czech polyglot improv wizzkid meet? The boys who go out together are a mix of actors and performers with various backgrounds, ranging from classical drama theatre, dance, circus, and physical theatre. They met during free-form improv classes at the Academy of Performing Arts in Prague and have been performing ever since. With the main purpose of exploring essentially total and utter free theatre improvisation without any structures ahead given, they concentrate on physicality and movement as their main form of expression. They search and keep learning our own language, consisting of dark Czech humor, movement improv, and an exquisitely bad taste in folklore singing.
Dinner and Theatre
We are inviting you to a special event, the first in history of Camino Art House. We are honoured to host the Improvisation Theatre group who are going to entertain us with their charming characters. But before the show, we all will sit around the table and have a special meal. The cook for these nights is Bea, founder of Camino Art House, who is preparing a special vegan meal for all the participants. The menu (and the show as well) will be different on each night, so if you liked the first one, there is always a chance to repeat 🙂
Places are limited, so please book yours in advance. Dinner starts at 7pm, please arrive 15 minutes earlier.
Entrance fee (includes the dinner and the theatre show): 30€
Menu 10th March
Sweet potato soup with ginger and Moroccan spices
Crispy bites with 3 different kind of dips (sweet potato, yukka, potato, apple, carrot) (alioli, lentils sweet chilli, papper sauce)
Rice with nuts
Green curry with tofu (spicy)
Salad – sweat and sour sauce
Vegan lemon cake from fresh lemon from the garden
Menu 16th March
Vegan Minestrone soup
Special mushroom stew with black paper and walnut
Hungarian Nokedli (pasta)
Baked tomato
Beetroot salad
Chocolate with strawberries
More info:
https://caminoart.org
bea@caminoart.org
+34 633339903
Us Boys:
https://www.facebook.com/mykluci
https://www.instagram.com/myklucicospolu
How to get to Camino:
https://caminoart.org/camino-art-house/how-to-find